Remembering Berry Berenson Perkins, a Victim of 9/11
Berry Berenson Perkins was the personification of unconditional love.
On 9/11 after the towers fell, I was driving to a meeting to be with my sober family when my cell phone rang. "Carole, sorry to hear about Berry," my friend Heather Mac Rae said. "She was on the American Airlines Flight II when it crashed into the North Tower of the World Trade Center."
"What? Where are you?"
"New York."
"Get out of there. Gotta go," I said as I hung up. I can still remember where I was -- the intersection of Township and Suede Road in Norristown, Pa. It was as though Berry was buried here. At this red light.
I remembered the love Berry gave to me, to everyone. She nursed her husband, Tony Perkins, who lost his battle to AIDS on September 12, 1992. She raised their two sons Osgood and Elvis. She didn't care about public opinion. She was brave. I wondered if she were in the front of the plane or the back. I hoped the back. From my stewardess days with Pan Am I could visualize the interior of a jet. If she were in the tail, she probably would
not
have been tortured. I suspected the first class passengers were brutalized in front of everyone to use terror to keep control.
Enough.
I want to remember the good times. When I met Berry. We were acting students with Wynn Handman the director of the American Place Theatre in New York. It was the late sixties. I was a model and Berry was a talented photographer and married to Tony Perkins. Wynn assigned me to study
Streetcar Named Desire.
I was to play Blanche and Berry was Stella. Wynn wanted us to work together. When we changed outfits in the dressing room, I said to Berry, "I've never touched a pregnant woman's belly. Could I touch yours?" She giggled her infectious laugh. "Of course," and there I was feeling a future infant. A moment one does not forget. Her tummy was so hard.
Then Berry and I went on stage as Tony Perkins and our class watched us do our scene. Tony was directing as Wynn was away. Some of the class members were: Richard Gere (
An Officer and a Gentleman
), Brad Davis (
Midnight Express
), Philippe Anglem (
Elephant
Man
), Heather Mac Rae (
Hair
), Marisa Berenson (
Barry
Lyndon
), Penny Milford (
Coming Home
), Robert Moresco (Oscar winner for
Crash
which he co-wrote), and Dennis Christopher
(Breaking Away
). After class sometimes Berry and I would have a bite.
In 1974, I filmed
Stepford Wives
and then moved to Paris as I had become the fiancée of Claude Picasso, Pablo's son. Irritated that I had portrayed a Stepford Wife, in 1975, Claude jilted me. When I returned to New York three-quarters of a basket case, Berry and Tony would invite me to their townhouse in the village to play card games. Tony loved games. They became a kind of family and always made me laugh. They didn't drink so I would bring my own wine in a brown paper bag. I just had to have wine with every meal. After all, I was chic. (I became sober in 1980.)
Berry's sister was model/actress Marisa Berenson while shocking pink designer Elsa Schiaparelli was their grandmother. Regarded as one of the most prominent figures in fashion between the two World Wars, Schiaparelli's designs were heavily influenced by Surrealists like her collaborators Salvador Dali and Giacometti. Her clients included Mae West.
Berry's mother was a Countess named Gogo, married to a shipping executive, but despite Berry's heritage, she was down to earth and did not choose her friends depending on their status. While she knew the rich and famous, her idea of a good time was sitting on their terrace of their village townhouse watching the sun go down while playing with her tots, Osgood and Elvis. Today Oz Perkins is an actor and Elvis Perkins, a musician.
One day Berry said to me, "You know when we were kids and Marisa and I would play, she was Queen and I was in her Court." Then Berry laughed her infectious laugh. I would have been in Berry's Court any day. Marisa had it, "Half ass backwards," as my Pa. Deustch mother would have said.
In 1988, when S&S published my novel
Flash
about a female flasher, Berry invited me to lunch. "I loved
Flash
and the way you laugh about sex. It's so healthy. Can you recommend any books for my boys to read?" I was flattered and recommended Updike, Anais Nin, Nabokov, Terry Southern. Shortly after this lunch Berry and Tony gave me a dinner party for
Flash
and invited his agent Sue Mengers.
When Tony was diagnosed with AIDS, in 1992, Berry gave him a party in New York knowing he did not have long. Photos were taken and autograph books were signed and everyone laughed and appeared to be happy yet resigned to his impending death. Little did everyone know nine years later Berry would abruptly join him.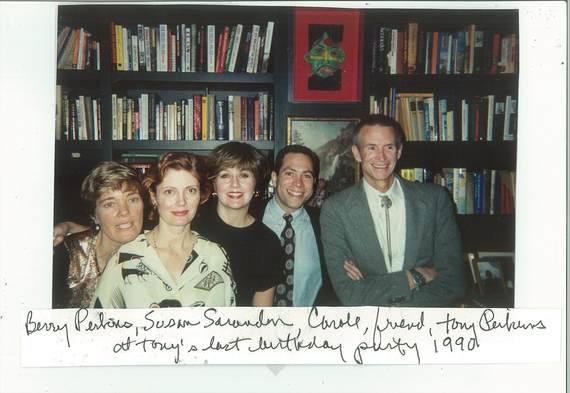 http://malloryhollywoodeast.blogspot.com
Follow Carole Mallory on Twitter: www.twitter.com/carolemallory